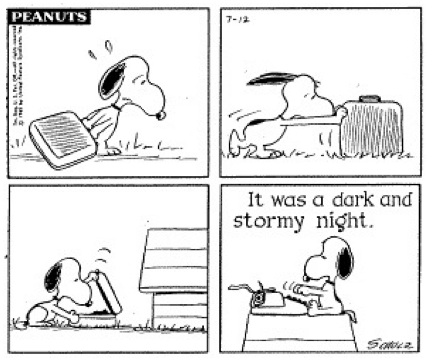 Is a novel defined by its length or by a certain approach? Can we consider a story that is not long a novel if it is epic in scope, representing a range of experiences and emotions? If so, isn't Snoopy's It Was a Dark and Stormy Night a novel?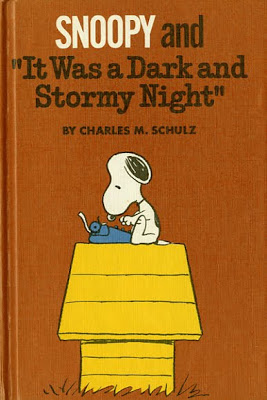 Throughout Charles Schulz's famous comic strip Peanuts, everyone's favorite beagle is working on a novel (or a series of novels?) which begins with the line "It was a dark and stormy night," probably the most famous opening of any novel, first penned by George Earle Bulwer-Lytton in his 1830 novel Paul Clifford. The pieces of Snoopy's novel have been compiled and published as a whole, but it is sadly out of print, so here it is for you in its entirety.
Snoopy's Novel, 12 July 1965
Part I
It was a dark and stormy night. Suddenly, a shot rang out! A door slammed. The maid screamed.
Suddenly, a pirate ship appeared on the horizon!
While millions of people were starving, the king lived in luxury. Meanwhile, on a small farm in Kansas, a boy was growing up.

Part II
A light snow was falling, and the little girl with the tattered shawl had not sold a violet all day.
At that very moment, a young intern at City Hospital was making an important discovery. The mysterious patient in Room 213 had finally awakened. She moaned softly.
Could it be that she was the sister of the boy in Kansas who loved the girl with the tattered shawl who was the daughter of the maid who had escaped from the pirates?
The intern frowned.
"Stampede!" the foreman shouted, and forty thousand head of cattle thundered down on the tiny camp. The two men rolled on the ground grappling beneath the murderous hooves. A left and a right. A left. Another left and right. An uppercut to the jaw. The fight was over. And so the ranch was saved.
The young intern sat by himself in one corner of the coffee shop. He had learned about medicine, but more importantly, he had learned something about life.

THE END
I think it is a novel. The text is shorter than most short stories yet could be considered a novel, even an epic novel, thanks to the author's attempts to present what György Lukács calls "Great epic's" potential to "give form to the extensive totality of life." It was a Dark and Stormy Night does give readers a sense of the "totality of life." Do you agree? Comment below!