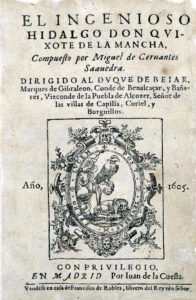 Don Quijote de la Mancha is the impossible truth: the book is a fiction, a lie, and yet it is true. Truer than a non-fiction biography of Cervantes. We would only read such a bio because we love our mad knight-errant and his earthy squire, Sancho Panza. The novel tells us much more about the real Cervantes than any bio could every do: valet, soldier, ransomed by pirates, soldier, tax collector, convict (jailed for discrepancies  in the accounts while tax collector), poet, playwright, and the first modern novelist.
Don Quijote tells us more. Our author, driven mad by the books he read, believed in truth, justice, honor and love then broke his head against the wall of reality and became deeply disillusioned but found a way to parody his idealism and do it honor at the same time. Cervantes idealism and realism are represented by his two characters: Sancho Panza and Don Quijote. The picture I have on my page shows a portrait of Cervantes made up of another picture of the knight-errant and his squire (a metapainting). Cervantes was given a choice: idealism or realism and he chose both.
Whenever you have a binary choice there are actually five possibilities, not two: A, B, both, neither or all of the above. Is the great novel true or false? Both: it is fiction but true to Cervantes' experience, very true for the modern experience. (As for the modern experience, I can only really speak of my own. I am driven idealistically to look for truth, an impossible task, a Quixotic quest.) Neither, it's not false, nor is it true. All of the above.
(For more on the construction of truth and Don Qujote (or Don Quixote as we spell it in English), read my book Narrative Madness, available at narrativemadness.com or on Amazon, or check out my posts How to Sound like an Author of Great Reading, Learning and Eloquence: A Quixotic Preface and Who Wrote Don Quixote?)