The End of a 350-Mile Journey
I have walked all around the San Francisco Bay at every accessible point, including islands, bridges, piers, and docks. You can see me below, jumping over the yellow line, marking the spot the walkway on the Golden Gate Bridge reaches land, the end of what was at least a 350 mile journey. Do you think I look pleased?
(Photo by Omar Rodriguez Rodriguez. To my left, Deb Garfinkel, Gary Boren and Katie Fox)
Today, June 20, 2015, a group of friends–Omar Rodriguez Rodriguez, Gary Boren, Katie Fox, Deb Garfinkel, Erik Kessell–and I walked the last leg. We took a ferry to the Sausalito Ferry Landing, then walked along the beautiful waterfront to Fort Baker, on the north side of the bridge, where we had drinks at The Presidio Yacht Club Bar, sometimes known as Mike's place. ("No," the bartender said to one of my friends, "we don't have iced tea. This is a bar.") After beers and shots of tequila (and a diet coke), we climbed to the bridge and crossed the Golden Gate, and my walk was completed!
How the Hell Did You Do It?
Did I do it all in one go? No, I took it in pieces over 13 years. I began the project in 2002 because I wanted to do more hiking but didn't know many trails I could get to by public transportation. I dropped the project when I moved temporarily to Japan and picked it up again about three years ago, so I have been walking sporadically for about three and a half years. I wasn't in any hurry to finish. The goal was not actually to walk all around the bay, but to be on the bay, to walk along the water, to soak up nature, and to explore bay culture. And what an amazing journey it has been!
What Exactly Do You Mean When You Say "I Walked Around the Bay"?
Starting at the Golden Gate Bridge, I walked counter clockwise around the bay down the peninsula to San Jose and up the East Bay to Vallejo, then down through Marin and across the bridge. Basically, I took the left-most path open to me, as long as it had access to the bay or a view of the bay. Mostly, I followed the San Francisco Bay Trail, which will one day be a 500-mile pathway around the bay but is currently 340 miles of trail, crossing nine counties and passing through 47 cities. Please support this wonderful endeavor by donating to the trail.
However, I walked many places that the bay trail does not go, for example islands, piers, docks, and roads without trails, often greatly increasing the number of miles by following the intricacies of the waterfront. I also added quite a few miles hiking to and from public transportation. For this reason, I consider the 340 miles of bay trail the minimum number of miles I walked.
Did You Really Walk All the Bay? Come On, What Didn't You Do?
What didn't I walk? For the most part, I did not walk parts of the bay without access to or a view of the water. I jumped over the San Francisco Airport (but I did walk around the Oakland airport–not such a nice walk), and I skipped industrial areas like the container shipping terminals in Oakland and the Chevron refineries in Richmond, but I walked through all industrial areas if there was path or road along or near the water.
Unfortunately, the San Pablo Bay, the northern extension of the bay above the San Rafael bridge, has few access points, just small parks, such as Point Molate Beach Park, some unusual gems, like Garbage Mountain (see the pictures below), and a couple of peninsulas, like Point Pinole Regional Shoreline. To reach these scattered points, I booked a car with City Car Share and drove from spot to spot, then walked what I could. One day when the Bay Trail opens in these areas, I will return and walk the shorelines that I could not reach.
The pictures above are mostly from Garbage Mountain, one of my favorite places on my bay walk, a garbage dump that is being transformed into a natural preserve as they syphon off chemicals and pump out methane. (By the way, they are actually using that methane to create electricity.) You can see me in the top right with my husband Omar Rodriguez Rodriguez. "You take me to the most romantic places," he said. The two pictures on the bottom left, from China Camp State Park, show orange dodder, a parasitic plant, growing on pickle weed.
I also imagined a line around the bay. I did not usually walk much outside of that line, except to get to and from the BART, bus, and ferry. I did not walk the Napa-Sonoma Marshes Wildlife Area, which is behind the line, but I did walk the levees surrounding the salt ponds near Alviso, down by San Jose, even though they are behind that line. (You can see a picture of that simple, beautiful landscape below.) I did not walk creeks and rivers, which I identified by parallel banks, but I did walk both sides of shipping lanes, like the Mare Island Strait and the Alameda Strait.
I consider the Carquinez Bridge the border of the bay, so I did not walk Suisun Bay or Grizzly Bay. They are arguably part of the San Francisco Bay, but the narrow Carquinez Strait separates them, in my opinion. Wikipedia, which is of course the authority, calls Grizzly Bay a "baylet of the San Francisco Bay" and doesn't even mention the San Francisco Bay on the page about the Suisun Bay. Take a look at the map yourself. They are more like orchids growing on a tree, rather than the tree itself. In contrast, San Pablo Bay is an "extension" of the bay, and the Richardson Bay is an "arm" of the bay, so they are part of the tree. I also walked around the San Leandro Bay in Oakland.
Did You Do It Alone?
Did I go with anyone? Mostly, I walked by myself. As an ambivert, someone who is both extroverted and introverted, I enjoy company, but I also love to be by myself. In fact, if I really want to commune with nature, it is best that no one stands between me and the earth. "By all means use sometimes to be alone," wrote George Herbert, "Salute thyself: see what thy soul doth wear."
Also, I was often working on my walk. I am an English teacher at City College of San Francisco and San Francisco State University, so I frequently had a stack of papers with me. I love to take student essays with me on my walk, reading one paper on a bench, then walking to another shady bench, moving my body and clearing my mind. I am sure my comments were generally more positive when I was reading the papers on the bay, rather than slogging through them at home. (Read about this method in my post "Do You Have a Pile of Papers to Read? Take a Walk!") Here is what my office looked like: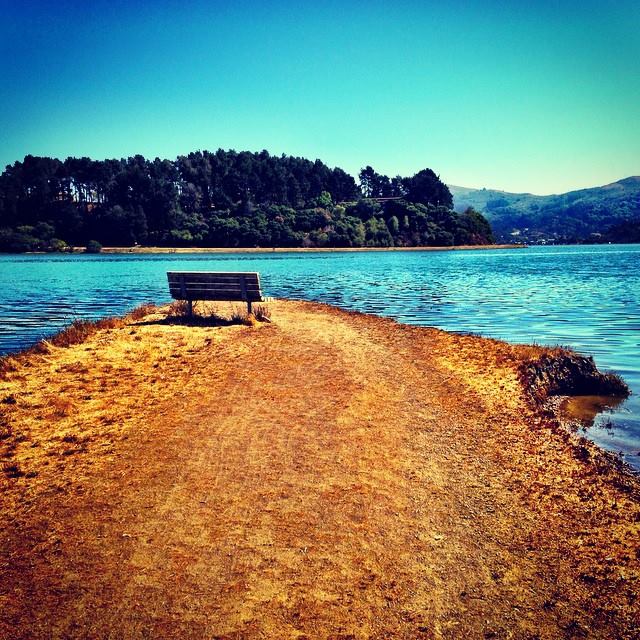 Who Did You Go With When You Did Walk with Friends?
However, it has also been great to share the walk with friends. The first friend I walked with on the bay walk was my good friend Gary Boren, who I have known thirty-three years. In fact, I formed the idea as we worked our way down the peninsula, so Gary inspired and encouraged me to take the bay walk. I don't remember much of those early walks, but Gary has always been my best walking buddy. He has also joined me twice for walks in Richmond–I especially love Point Richmond with its golden California hills, lovely pond and little beach–and a great walk along the waterfront of Vallejo. He walked part of the Alviso Salt Ponds with me with Sybl Saisselin and Sarah Bernardini, but that walk turned out to be much longer than we expected, so we didn't finish it together. And, once again, he came with me for the final leg. You can see me with him below. Thanks, Gary!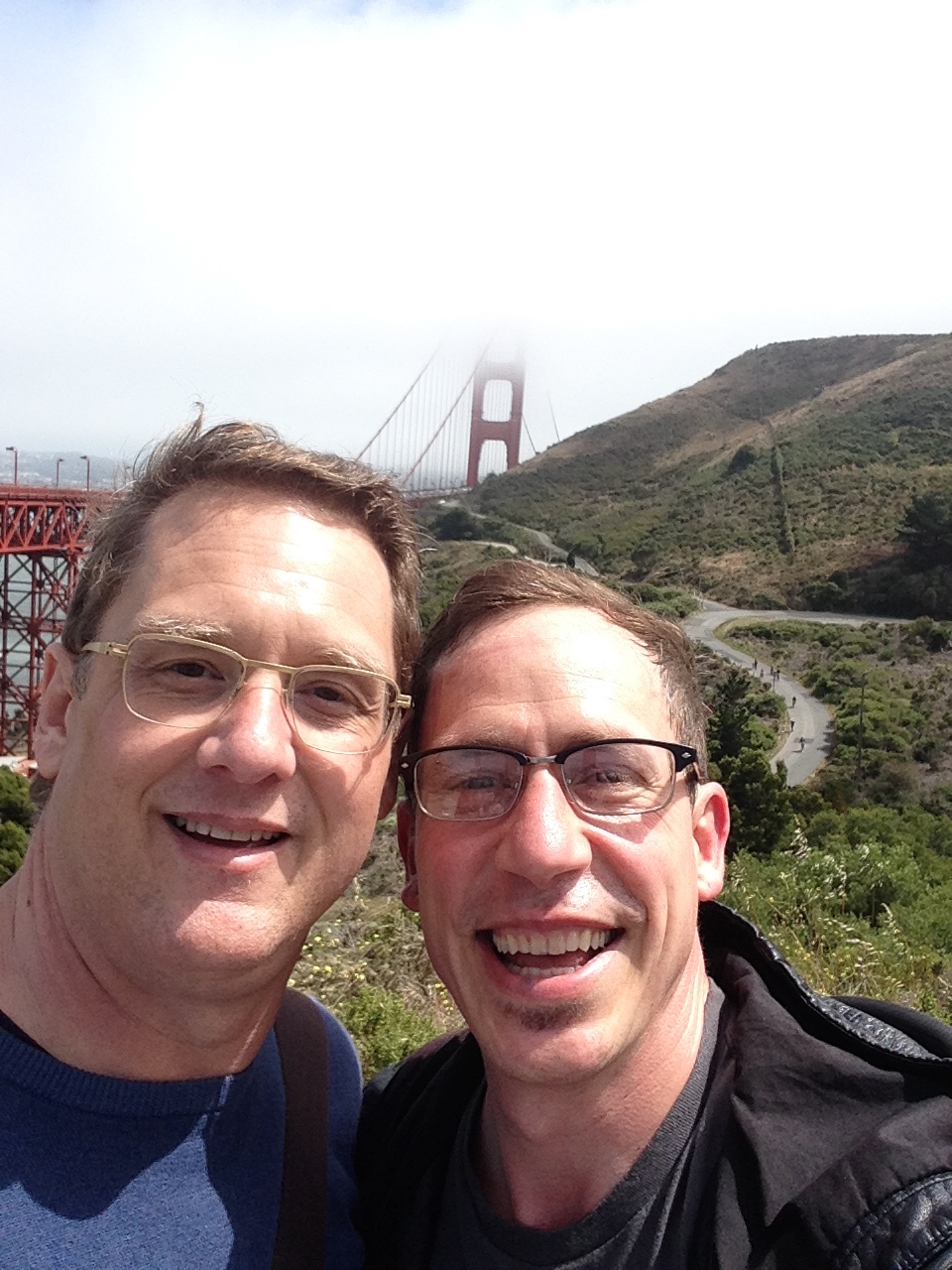 My husband Omar Rodriguez Rodriguez has joined me three times, once to Garbage Mountain, as you can see above. He came with me to Mare Island near Vallejo. The "island," the first American naval base on the west coast, was closed to the public as a military base for 150 years. It was a small island, but as they dredged the Mare Island Strait, they added to the island, increasing its size three or four times. Now, in fact, it is not an island at all, but a peninsula. Omar also finished the bay walk with me. He has always encouraged my projects (except when I was watching the best of Star Trek), including this blog, which he has helped me set up and expand and maintain. Thanks, Omar!
See more pictures on Instagram on my Ronosaurus Rex account under #ronosaurusbaywalk.
What's Next?
The Bay Area Ridge Trail, which also encircles the bay, but along the ridges of the bay. Check out the pictures I have taken so far on instagram: #ronosaurusbayridge.