Abstract paintings are metapaintings. A metapainting is a painting about painting. A metapainting may represent itself, the process of its creation, its materiality, the conventions of art, the gallery where it is hung, the artwork around it, and the place of art and artist in society. Diego Velasquez's Las Meninas does all these things and more, but Velasquez's painting is a metapainting because of its subject matter, rather than its form or style. Most other paintings by Velasquez are not meta, but are naturalistic representations. Abstract paintings, in contrast, are inherently meta. (You can see Velasquez's painting below.)
Abstract paintings are meta because they are about themselves. The titles of many abstract paintings show that they are their own subject matter, for example Constructivist Painting No. 8 by Joaquin Torres-Garcia from 1938. The metapainting also emphasizes the process of its creation, namely its construction in the word "Constructivist." Similarly, Jackson Pollock's Square Painting refers to paint being poured into a square (the process being what matters most for Pollock). All abstract paintings are metapaintings.
Let me clarify that I am using "abstract" here in the strict sense of a non-figurative painting, a painting that does not present an object outside itself. Although many call Picasso an abstract painter, this is inaccurate. He was a figurative painter — he presented images: guitars and coffee pots, bull fights,and rape. Of course, he challenged convention and drew attention to texture and shape, and these aspects are meta. While he employed meta-elements in all of his work, some of his paintings, for example, his Las Meninas series are metapaintings, in fact meta-metapaintings, but they are not abstract.)
A metapainting often draws the viewer's attention to the the canvas, the paint, the texture and the shapes. Robert Rauschenberg's infamous White Paintings — basically three apparently blank pictures side by side — draw attention to their canvases. (Actually, instead of being blank, the canvases are painted white and must be repainted periodically to maintain their pristine whiteness. Read more about the White Paintings in my post, "The Lack of Blank Spaces.") These paintings also questioning the basic assumption — one that seems too obvious to question — that a painting must have an image. A shocking idea even after all these years!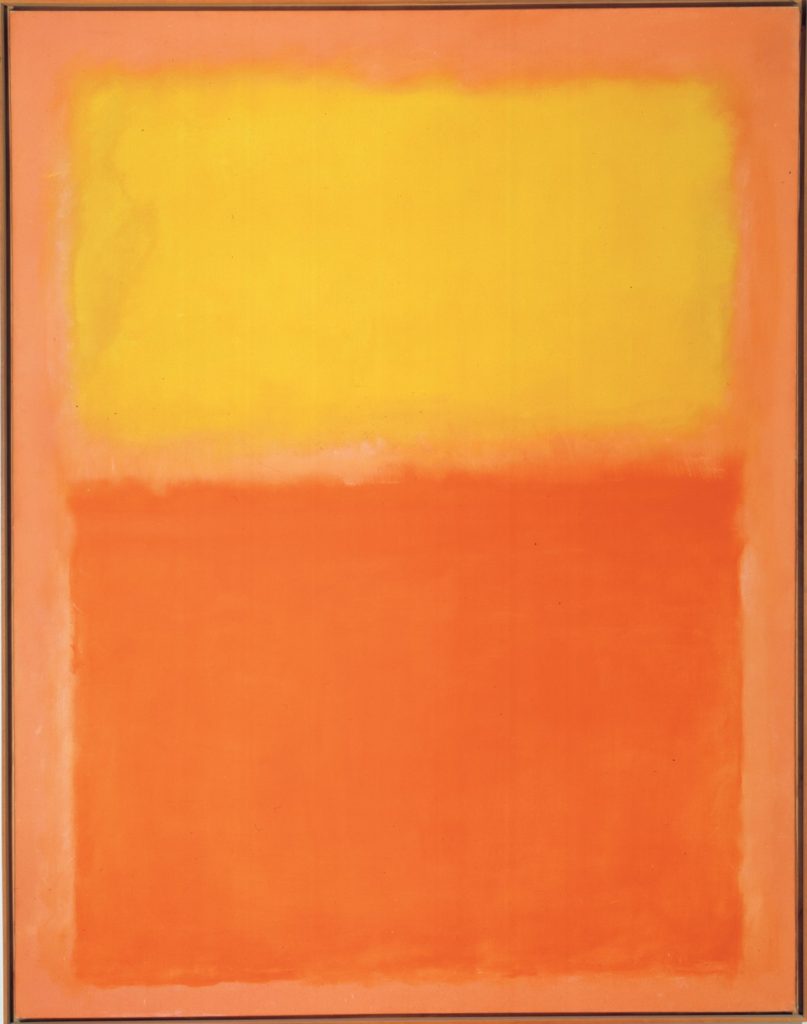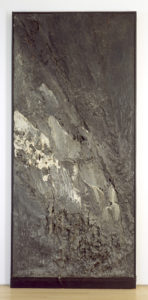 Many abstract paintings refer to the paint itself, as does Mark Rothko's Orange and Yellow (painted in 1956). For Jay DeFeo's Incision (shown on the right), the title does not refer to the texture, but the texture is so exaggerated, as to heighten a viewer's awareness of it. Apparently, it took her four years to apply all that paint, because she worked on the painting from 1958 to 1961. The emphasis on shapes can be seen in Josef Albers' Study for Homage to the Square (1972, below).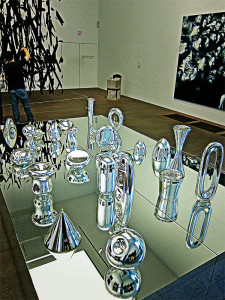 Although, I am straying a bit from painting, the sculpture "Model for Total Reflective Abstraction" by Josef McElheny (2003), not only emphasizes shape, but reflects itself, the gallery and the paintings around it. (Photo by Omar Rodriguez-Rodrigues. Read more about it on my post, Metaphotos of a Meta-Sculpture.)
Truly abstract paintings then are always metapaintings, because they are about themselves, their materiality and the process of their production.
* * *
(All paintings discussed here are from the San Francisco Museum of Modern Art. McElheny's sculpture appeared in the De Young Museum.
Read more about metapaintings in my posts Las Meninas: A Meta-Paining, If Not a Pipe, Then What? Magritte's Meta-painting, Halfway: A Meta-Painting by Tofu St. John, and The Lack of Blank Spaces: Cage's 4'33" and Rauschenberg's "White Paintings."
Read about meta-murals in these posts: The Making of a Fresco Showing the Building of a City: Diego Rivera's Meta-Mural, A Meta-Mural on Clarion Alley: Lo Llevas por Dentro by Jet Martinez, Repainting the Tenderloin: Mona Caron's Meta-Mural "Windows Into the Tenderloin."
Read these excellent posts on meta-painting from Museo del Prado: Meta-Painting: A Journey to the Idea of Art and Steffan Shaffeld: Part Three: Exercises 3.3: Meta-Pictures, and read the book The Self-Aware Image: An Insight into Early Modern Meta-Painting.
Take a look at my abstract photos in my post Abstract Art Reinterpreted in Photography and the book #abstract.)