Metamusic is music about music: songs that reference themselves, the singer, other songs, other singers, musical instruments, the process of writing or recording a song, the music industry, or anything else that is related to music. You'd think that the world would have had enough of silly meta-songs. I look around me and see it isn't so. Singers love to sing about singing! In the first half of this post, we'll look closely at some passages from metasongs, examining what makes them meta. In the second half, I present a longer list of metamusic for you to explore. Whenever possible, I have linked to the song on YouTube, preferably a music video. Most songs are available on Spotify and Pandora.
Bad Music by Blectum from Blechdom
The singer of this soulful meta-song, Kevin Blechdom, slips in and out of tune, as she sings about bad music. (Click on the link and listen to it as you read). 
"There's bad music everywhere. There's bad music everywhere. There's bad music in the air."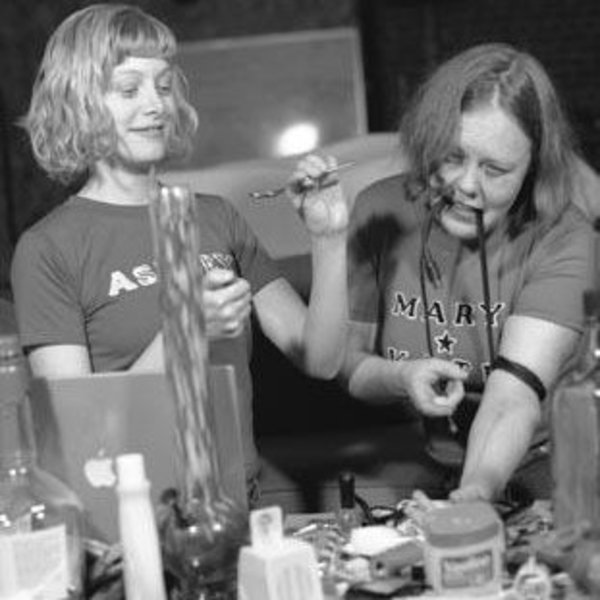 At first, it seems she is complaining about all the bad music out in the world, and there is certainly a lot of it, right? However, she seems to be singing deliberately off key, so is she being ironic? In fact, at one point, she does something embarrassing in a live performance, but unthinkable in a recording. The singer interrupts herself and swears under her breath,
"I can't remember the fucking song. Let's see. Bad music all around. Fuck. I'm never going to get anywhere with this."
Instead of rerecording the song to remove this mistake, it became part of the song and album, giving listeners a rare glimpse into the process of singing and recording. We get a to look behind the music curtain to see music-making as a messy affair. Then she starts singing, apparently extemporaneously,
"I'm going to fuck the music into the ground. Yeah. Fuck the music into the ground."
Okay, now she seems to be attacking her own song, deliberately fucking it up. But then she goes back to main the chorus, as so many other songs do:
"There's bad music all around. There's bad music everywhere."
At the end of the song, the music gets very lively and her singing even more shrill. She sings,
"I like bad music every single day. I like bad music every single day."
Okay, she is not complaining or being ironic. She is celebrating songs that defy expectations like their own avant-garde music. She slows down again,
"I don't think you understand. Bad music is grand . . . if you like it."
And this is one bad song that is really grand.
The singer of the song has caught someone's eye, but she's not single: "I know you see me lookin' at you / And I know he know you lookin' at me / Well . . . damn." In a situation like that, what are you going to do? Get her in the mood, by asking the DJ for a love song.
DJ won't you play this girl a love song
She really needs to hear this freakin' love song
She's lookin' at me kinda hard, I can tell that things ain't right on the home front
What she really needs is a G like me to Beat a beat, beat it, beat it
She needs the song because things are not working out at home: "Baby, I know he ain't treatin' you right." She needs a G, a gangster, like Jamie Fox to "beat a beat." The song he wants the DJ to play is obviously his own, and that beat is gonna be more than a song–if he gets her against the wall, in the bathroom, in the elevator.
by Otis Redding Sad songs are the only songs Redding can sing: "I keep singing them sad, sad songs, y'all," Redding sings, "Sad songs is all I know."
All my life I've been singin' sad songs
Tryin' to get my message to you, honey
But that's the only song, y'all, I can sing
And when you get through singin'
My message will be to you
It doesn't take much to get the message across, he says. "It's just a line, oh but / It tells a story, baby / You got to get the message." What is the message? Must be love. This sad song "has a sweet melody," and you "can sing it any old time / It touches your heart / Puts you in a groove / And when you sing this song / It'll make your whole body move." Caught up in the music, your sorrow won't be so heavy. Redding's song may be tinged with sadness, as are many of the best songs, but it is a happy song about the joy of music.
Hook by Blues Traveler
Link to YouTube
. "Hook" is a song by jam band Blues Traveler, from their 1994 album
Four
. From Wikipedia:
The song's title refers to a hook in music terminology: the catchy element or phrase of a song which makes it distinctive and memorable. The song's lyrics assert that whatever the singer sings about is effectively meaningless, since the song's musical hook will keep listeners coming back, even if they are unaware of the reason
I Bet You They Won't Play This Song On Radio by Eric Idle from Monty Python
Link to YouTube
. "I Bet You They Won't Play This Song on the Radio" is a comic look into radio censorship of words considered inappropriate. Below is a quote from the lyrics properly censored (of course):
I bet you they won't play this song on the radio,
I bet you they won't play this new ████ song.
It's not that it's ████ or ███████ controversial
It's just that the ████ing words are awfully strong.
I gotta right to sing the blues
I gotta right to feel low-down
I gotta right to hang around
Down around the river A certain gal in this old town
Keeps draggin' my poor (old) heart around
All I see, for me is – misery
I Love Rock 'n Roll from Joan Jett and the Blackhearts
Link to YouTube
The lyrics from Joan Jett's sexy meta-song:
I saw him dancin' there by the record machine
I knew he must a been about seventeen
The beat was goin' strong
Playin' my favorite song
An' I could tell it wouldn't be long
Till he was with me, yeah me
And I could tell it wouldn't be long
Till he was with me, yeah me, singin' I love rock n' roll
So put another dime in the jukebox, baby
I love rock n' roll
So come an' take your time an' dance with me
Many songs talk about the power of music to alter moods or even to save lives:
Last night a D.J. saved my life
yeah 'cause I was sittin'
there bored to death
And in just one breath he
said: You gotta get up You gotta get off
you gotta get down
girl . . . You've got me turning to another man.
Called you on the phone
no one's home – Baby
why'd you leave me all alone?
And if it wasn't for
the music I don't know
what I do.
Last night a D.J. saved my life Last night a D.T. saved
my life from a broken
heart.
The Music Goes Round and Round
"
The Music Goes Round and Round
," sung by Betty Boop, aka Helen Kane. Originally featured in the film "The Music Goes Round" (1936), played by Riley-Farley & the Onyx Club Boys. (I am more familiar with Louis Prima's version of the song, but couldn't find a copy to share with you.) The lyrics give you simple instructions on how to play a trumpet:
I blow through here
The music goes 'round and around
Whoa-ho-ho-ho-ho
And it comes out here.
I push the first valve down
The music goes down and around
Whoa-ho-ho-ho-ho
And it comes out here.
The following verses describe pushing "the middle valve down" and then "the other valve." And just like that you can play the trumpet!
by Fall Out Boy The title and main lyric is "My songs know what you did in the dark." The music takes on a metaphorical awareness, sensing whatever the "you" did in the dark. Once again, the vagueness of the "you" and the reference to "darkness" leads us to a sexual explanation. Besides sleeping, what else do you do in the dark? So light 'em up! "Writers," he sings, "keep writing what they write." And Fall Out Boy is one of them, using his music to light up the darkness for "you," whoever that may be.
Written by Paul Williams, performed by Three Dog Night "Just an old-fashioned love song playin' on the radio," they sing. "And wrapped around the music is the sound /
Of someone promising they'll never go." What is the sound of "someone promising they'll never go?" Obviously, it sounds like a love song, and the best love songs seem familiar. Even when we hear the song for the first time, we recognize it: "You swear you've heard it before / As it slowly rambles on and on." Although you have never met the song writer, the songs seems as though it is "One I'm sure they wrote for you and me." The song is not a stranger's song any longer. It becomes "our song," a personal song with personal meaning "To underscore our love affair." We use the song to "weave our dreams upon and listen to each evening." So what happened to those old fashioned love songs? How can we revive them? "No need in bringin'
em back / 
Cause they're never really gone." There will always be new songs that, like this one, become old fashioned love songs.
Only a Northern Song
"
Only a northern song
" by The Beatles from their "Yellow Submarine" movie, later album. The lyrics are pure meta-delight:
If you're listening to this song
You may think the chords are going wrong
But they're not
He just wrote it like that When you're listening late at night
You may think the band are not quite right
But they are, They just play it like that
According to George Harrison, the song is an in-joke about "Northern Songs Ltd," a recording company created to represent (and exploit) Lennon/McCartney compositions. From Wikipedia:
Hence the song's "mild dissonance" and "nasally sarcastic" key-changes have been said to complement the "suppressed bitterness" of Harrison's lyric,[2] which features such self-referential lines as: "It doesn't really matter what chords I play/What words I say or time of day it is/As it's only a Northern Song."
This may not be what you think of as rock 'n roll, because rock 'n roll originally was not the slamming music of Joan Jett, it was a kind of swing music that gently rocked and rolled "like a rocking chair."
Rock and roll, roll and rock away,
Up and down, round and round we sway,
We're the swell
In the spell
Of the rollin'rockin' rhythm of the sea! Rock and roll, roll and rock along,
My, 'tis sweet, greet it with a song,
While we dance
There's romance
In the rollin'rockin' rhythm of the sea!
Rock and Roll Music by Chuck Berry
Chuck Berry is the one who took us from blues to rock, and so his song
Rock and Roll Music
is especially appropriate.
Just let me hear some of that rock'n'roll music
Any old way you choose it
It's got a backbeat, you can't lose it
Any old time you use it
It's gotta be rock – roll music
If you wanna dance with me
If you wanna dance with me I have no kick against modern jazz
Unless they try to play it too darn fast
And change the beauty of the melody
Until it sounds just like a symphony
That's why I go for that rock'n'roll music
by Bachmann-Turner Overdrive The song begins with a reference to the rock-'n-roll lifestyle: "It's a hurried up life / But it's the life I choose." It may be a busy life, but it was his choice. In the next verse, however, he suggests that he was born a musician. The singer says, "You know I was born standing up with a guitar in my hand." After all, rock is his life and this is his song. A musician's image, he recognizes, is artificial (represented by the word "Hollywood"), but then he claims that artificiality as his own: "I'm not tryin' to come on like Hollywood / But Hollywood is what I am." He sings about touring, performance, and audience response:
When we come into a new town
Everybody's there
When we play our music
Hands are in the air
In another verse, "Candles light the air." Sometimes concert-goers ignite lighters, but I have never seen candles. One explanation was that "Lighters light the air" makes an awkward line. Another is that "candles" create a more romantic mood than lighters, making the line poetic rather than literal. What happens to the musicians after the concert? You would expect them to go to a party, perhaps, but they disappear into the silence. The musician becomes mythical here, representing music itself:
When the music's over
You wonder where we are
I'm standing in the silence
With my old guitar
Rock is my life and this is my song
He sings about other musicians who have not survived the "hurried up life":
It's a cryin' shame
That some of us have not survived
No use in askin' how it happened
But very few are left alive
Because other musicians have died or faded away, he knows that one day he will stop making music as well, and he takes this as a wake-up call to get busy and make some more music:
I just wanna keep on makin' music
We gotta keep on keepin' on
You're only as good as your last record
I know that someday we'll be gone, gone.
Same goes for you. If you are going to rock out, you'd better get busy. The clock is ticking.
by Elton John and Bernie Taupin This wonderful meta-song is about the healing power of music. Sharing our pain with, we ease it: "Guess there are times when we all need to share a little pain / . . . / And it's times like these when we all need to hear the radio / `Cause from the lips of some old singer / We can share the troubles we already know." It helps to know that other people have suffered, that we are not suffering alone. "If someone else is suffering enough to write it down / When every single word makes sense /Then it's easier to have those songs around." When all hope is gone, sad songs can help you: "They reach into your room / Just feel their gentle touch / When all hope is gone, sad songs say so much." When we hear our pain described, it externalizes the pain, makes it something we can examine outside of ourselves: "The kick inside is in the line that finally gets to you / and it feels so good to hurt so bad / And suffer just enough to sing the blues." It may hurt to experience the pain again, but by doing so some of the pain is released, and doesn't that feel good? So "Turn them on, turn them on / Turn on those sad songs." But John's song is not a sad song. It is a joyful song about the power of music to save us from our sorrow.
by Paul McCartney "You'd think that people would have had enough of silly love songs," Paul sings. In fact, new love or old love, savory or soured, love has been the most popular subject of song for centuries. So aren't there enough?
But I look around me and I see it isn't so.
Some people wanna fill the world with silly love songs.
And what's wrong with that?  I'd like to know
cause here I go again.
McCartney is acknowledging that love songs are silly and admits that this is one of those songs, but "what's wrong with that?" He can't seem to stop himself: "cause here I go again." And he begins singing "I love you" again and again. Love may seem silly when you are not in love, but when you fall, "It isn't silly, no, it isn't silly, love isn't silly at all."
Son of a Gun
"
You're So Vain
" by Carly Simon is a metasong because of its famous lyrics, "You're so vain. You probably think this song is about you." The irony, of course, is that the song really is about him. (The "you" of the song is Mick Jagger.)
Song for Whoever
"
Song for Whoever
" is a song by The Beautiful South, an ironic look into old love affairs which fueled their musical careers.
I love you from the bottom, of my pencil case
I love you in the songs, I write and sing
Love you because, you put me in my rightful place
And I love the PRS cheques, that you bring
Take this Song
"
Take this Song
" by Dan Herr from the "Celebration Compilation!" album of Oddio Overplay. All the songs in the album are protected by a
Creative Commons copyright license
that allows the songs to be shared and remixed. The lyrics of this song speak about this:
Take this song
I don't really want it
You can have it
It isn't very good Take this song
It doesn't matter anyway
I can find another one
Anywhere I look
by Public Image Limited "This is not a love song," he sings again and again. What kind of song is it? Seems to be a business song: "Big business is very wise / I'm crossing over into e-enterprise." Later he sings, "I have a new goal / I'm changing my ways where money applies." But the insistence that "This is not a love song" overwhelms the brief verses about making money. Methinks he doth protest too much. Whenever you deny something, you invoke the opposite. Imagine someone on the street repeating, "I am not crazy. I am not crazy. I am not crazy." Wouldn't you assume he was crazy? The last verse introduces a "you" to the song: "Now are you ready to grab the candle?" What could "grab the candle" mean? It's vagueness hints that it is sexual. "Now will I find you, now will you be there?" he asks. Methinks it is a love song after all.
by The Planet Smashers Life may not be going so great for you. "This has now become your life / turned away from advice / Tired it tells, shame I noticed /You feel fine but you're losing focus, losing focus." So, this song is dedicated to you, as a fun alternative to the hard work:
This song is for you
Because you work so hard
When the day is done, we'll have some fun
This song is for you
Your Song
"
Your Song
" by Elton John. Elton begins by singing about building a big house, being a sculptor, making a potion, but of course what he does best is write songs and that is exactly what he offers to "you."
I know it's not much but it's the best I can do
My gift is my song and this one's for you
And you can tell everybody this is your song
It may be quite simple but now that it's done
I hope you don't mind
I hope you don't mind that I put down in words
How wonderful life is while you're in the world."
There's a great cover of "Your Song" in
Moulin Rouge
. (Read more about this song in this post. As suggested above, rock is just an extension of the blues, so songs about the blues could also fit the category of soft-meta.
Other Songs about Songs
Some songs are meta just because of their titles:
Rockin' in Rhythm
, Duke Ellington and his Orchestra Often song titles refer to the singer:
Billlie's Blues
, Billie Holiday
Calloway Boogie
, Cab Calloway
Bob Dylan's Blues
, Bob Dylan An alphabetical list of other meta-songs. (Note: "by": indicates the performers, who are in some cases the songwriters as well.) "Anne's Song" by Faith No More "Another Song" by The Carpenters "The Band Played Waltzing Matilda" by The Pogues
Bang the Drum All Day
, Todd Rungren
The Blues Never Die, Otis Span
"The Bubba Watson Song" by Papa Razzi and the Photogs "Crocodile Rock" by Elton John "Diss Song" by Tyga "Don't Download This Song" by "Weird Al" Yankovic "Don't Take This Song" by Mike Mangioni "Fire and Rain" by James Taylor "Getting in Tune" by The Who
"Glass Onion" by Phish
Good Rockin' Mama
, John Lee Hooker "The Great Unknown" by Elvis Costello & The Attractions
"(Hey, Won't You Play) Another Somebody Done Somebody Wrong Song"
by BJ Thomas.
Hoochie Coochie Man
, Muddy Waters
Hot Patootie — Bless My Soul
, Meatloaf (from
Rocky Horror Picture Show)
I Chose to Sing the Blues
, Ray Charles
I Dig Rock 'n Roll Music
, Peter, Paul and Mary (A parody of the famous rock 'n rollers of their day.)
I Got Rhythm
, Ethel Waters I Want to Rock, Cab Calloway "I Write the Songs" by Barry Manilow "If Your Song Has the Word 'Beach' in It, I'm Not Listening to It" by Dads "I'll Have to Say I Love You in a Song" by Jim Croce "I'll Keep Singing My Song" by Jerry Tlucek "It Don't Mean a Thing (If It Ain't Got That Swing)" by Duke Ellington
"It's The Same Old Song"
by The Four Tops "Killing Me Softly with His Song" by Roberta Flack "Laughing Stock" by Love
Let it Rock
, Chuck Berry
Metasong
by Seven Side Diamond
"New Song"
by Howard Jones "One of Those Songs" by Jimmy Durante "One Song at a Time" by Jamie Grace "Our Song" by Taylor Swift "Overnight Sensation" by Raspberries "Play This Song" by Digimind "Pop Song" by Taken "Rednecks" by Randy Newman
Rock Me Amadeus
, Falco
Rock 'n Roll Babylon, Love 'n Rockets
Rock 'n Roll High School
, The Ramones
Rock 'n Roll is Here to Stay
, Sha-Na-Na
Rock 'n Roll Suicide
, David Bowie Roll Over Beethoven, Chuck Berry
"Sad Song"
by Lou Reed "Sam's Song" by The Rat Pack "The Saxophone Song" by Kate Bush "Sing Me a Swing Song" by Ella Fitzgerald "The Soldier's Song" by Demon Hunter "Song Beneath the Song" by Maria Taylor "Song for the Asking" by Simon & Garfunkel "Song for Whoever" by The Beautiful South "A Song for You" by Leon Russell "Song Sung Blue" by Neil Diamond "Song to Woody" by Bob Dylan "Song You Won't Forget" by Niceland "Songbird" by Fleetwood Mac "The Songs That We Sing" by Charlotte Gainsbourgh
Sultans of Swing
, Dire Straits
"Take This Song"
by Third World "Take This Song with You" by Maya and the Ruins "The Song is Over" by The Who "This is a Song" by The Magic Numbers "This is My Song" by Petula Clark "This is Not a Song, It's an Outburst: Or, the Establishment Blues "This is the Last Song I'm Ever Going to Sing" by The Everly Brothers "This is the Song (Good Luck)" by Punch Brothers
"This Song"
by Blackbear "This is My Song" by the Scorpions "This Song is Dedicated to Nature's God" by Sun Ra "This Song is You" by Jerome Kern "This Song is You" by Lindsey Lawler "The Song That Never Ends" by Sean O'Boyle "This is a London Song" by The Union "This is How the Song Goes" by The Verbs "This is Sarah's Song" by Glen Campbell "This is the Last Song" by Lovers "This is the Song We Sing" by Merle Haggard "This Song is Ridiculous" by Once Nothing "This is the Song That Goes Like This" by Eric Idle "This Song is for the Birds" by Sesame Street "Title of the Song" by Da Vinci's Notebook "Valley Winter Song" by Fountains of Wayne
Walk on the Wild Side
, Lou Reed ("And the colored girls go . . . ") "We'll Meet Again" by Johnny Cash "Whiskey Wrote This Song" by Rex Robards "You Can Close Your Eyes" by James Taylor "You Will Be My Music" by Listener "You Will Never Take This Song" by Cardinal Family Singers "You're So Vain" by Carly Simon